Monastery Building, West Sussex
The Cittaviveka  Buddhist monastery, first  established in 1979, supports a resident community of monks and  nuns in a quiet rural environment within the South Downs National Park. It has grown from its original building, once a Victorian rectory, to become a small complex of subsequent buildings including the Dhamma meditation hall, smaller individual residential buildings, and a workshop building, with linking cloisters set around gardens and courtyards.
Noel Wright Architects worked with representatives of the community to arrive at a design solution for their latest phase of development, a building providing a meeting room and a quiet 'refuge' space together with ablution and laundry facilities to support the living requirements of the monks.  The building also provides a base to which they can return after periods of solitude spent living in the 'kuti' huts in the surrounding forest areas, as well as space to accommodate visiting monks from other monasteries.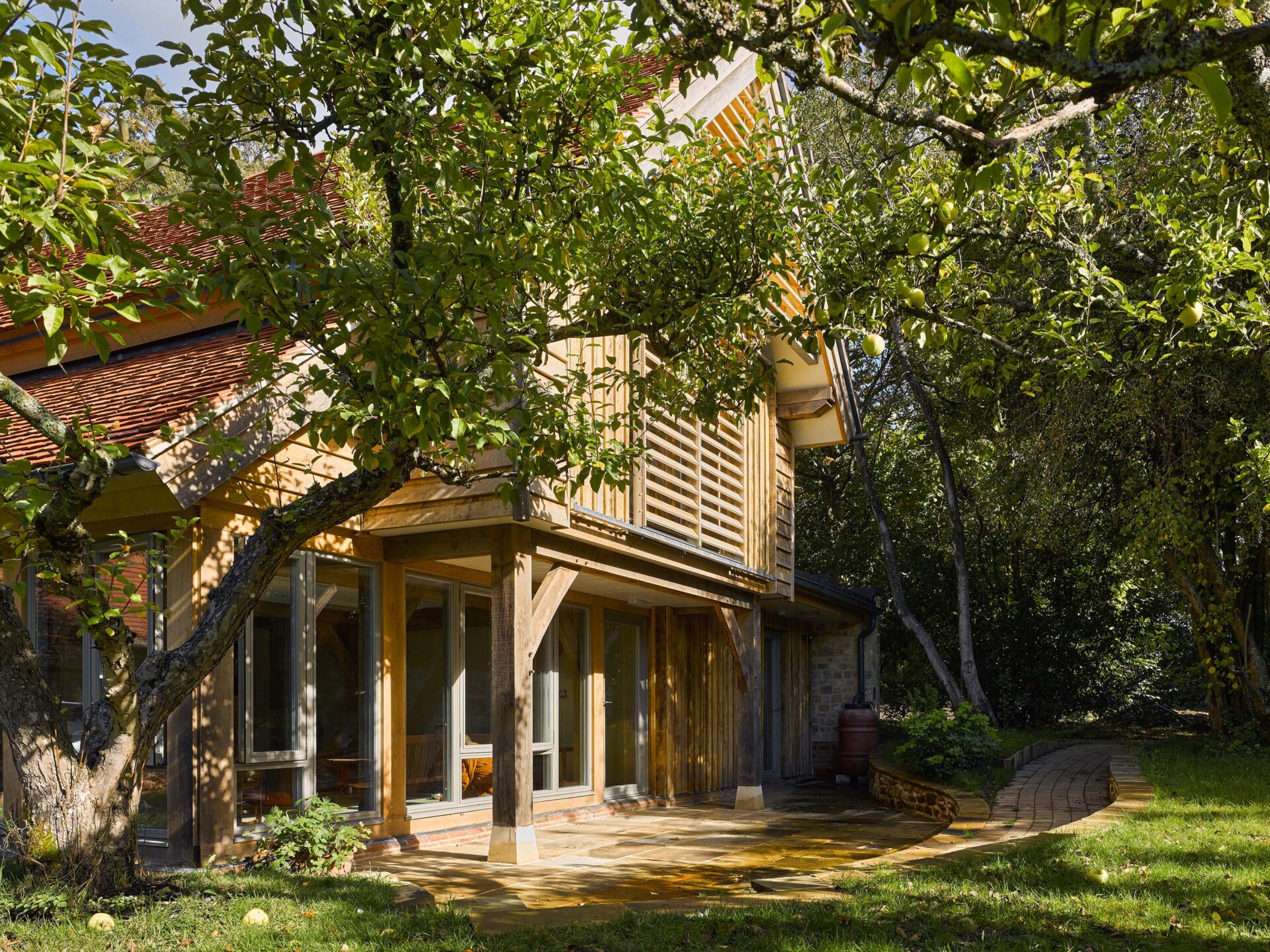 The new building, in conjunction with existing buildings, creates a courtyard  space around an old orchard. Inward/ courtyard facing facades are glazed. Surrounding walls to the outward/ non-courtyard sides are faced in local stone, mostly reclaimed from a previous building on the site. The two-storey part of the building utilises oak framing carpentry for its primary structure, including characterful oak 'crucks' over the first-floor rooms. The overall form and size is a carefully arranged fit in relation to existing buildings as well as the natural environment and surrounding trees.
The building is designed for longevity and to provide robust, adaptable accommodation with complexity kept to a minimum. The ablution areas with basins, WCs and showers, together with a sauna, were carefully specified to meet the monks' needs and to be straightforward to clean and maintain.
The whole building achieves a high environmental specification with particular attention to insulation, airtightness, and ventilation. A heat main pipe was extended from the existing central biomass /log fired system serving other buildings, to a heat store within the building.  This then serves space heating and hot water requirements in the new building.  The building services plant room doubles as a drying space for laundry.
Noel Wright Architects were responsible for:
Design and obtaining planning consent
Detailed design and construction drawings
Specification and selection of fittings and finishes
Lighting design
Hard landscape design
Advising on Building Contractor appointment
Contract administration site inspections
Principal Designer role for CDM purposes